Payroll Software Singapore | Better HR
Better HR generates over 18k employees' monthly payslips around the globe. Automate your organization's payroll operations easily with Better HR. The best cloud HR and payroll software for Singapore. Ask your questions from the experts in a free vitual demo meeting. Fill signup form to use 14 days free!
Friendly UI
Payroll Groups
Live Paysheet Edits
Excel Export and Import
CPF & IIT Calculations
Explore your employees' paysheets in an itemised table view. Easy to view, search, and understand. You can search employee records by sorting into departments, locations, or any other custom tag. Don't make payroll as a burden anymore, play with payroll management using Better HR all in one HR and Payroll system software Singapore.
Use an all-in-one go payroll process with one click or generate paysheets by grouping into different departments, locations, positions and more with Better HR HRIS System. Manage your multiple branches, remote employees or freelancers under their local law & regulations using only one payroll software - Better HR Singapore.
Better HR live edits help to change typos during the process no need to generate from start. You can customise minor errors during the payroll calculation, but you can't edit the locked tables. The automatic pay sheet according to the Ministry Of Manpower (MOM) Singapore will be displayed on the window; cross check and publish accordingly. 
Better HR Import & Export feature allows managers to keep a detailed paysheet as an Excel sheet if needed. You can also upload your past months records to calculate payroll. This feature can provide a hybrid mechanism for payroll. Managers can experience an automatic and manual feature in one payroll system, isn't it amazing? wanna try? signup Now!
Better HR Payroll System will display the automatic IIT (Individual Income Tax Singapore) & CPF (Central Provident Fund) calculations according to your employees Ordinary and Additional wages. You don't need any additional CPF calculator. You can file easy tax reports under Singaporean law & regulations using Better HR Payroll Software.  MOM approved formats and calculations!
Payroll Automation Saves Time.
Payroll calculation automation will reduce errors and save time for the human resource department. Useful for small business owners and young entrepreneurs. Better HR System & app for Singapore. Ease your HR, Payroll and Administrative burdens and focus on other important matters. 
Modern Integrated Algorithm
Better HR is more than a HR system. You don't have to update employee details every time in payroll, it will gather details of time attendance, overtime, leave, claims, incentives, promotion, tax & other deductions accordingly. Easy, Secure, and Efficient way to manage organisations in Singapore Better HR online software & app.
Get payslips online using Better HR mobile app
Small & Medium business employees also can have Ministry Of Manpower (MOM) - Singapore approved itemised online payslips now! Help your employees to understand their value with an full deatailed payslip format. Try Better HR Payroll system & app.
Itemised Pay Slip

Employees can check all their monthly earnings and deductions here. After publishing the paysheets by HR or Payroll manager, the paysheets will be delivered to each employee through Better HR mobile app.

Overtime Calculation 

Better HR overtime calculation under part IV of the employment act and MOM Singapore. A clear overview of OT calculation can be seen using your mobile. See your OT date, worked hours, MOM hourly rate, public holiday & rest day calculation and more with Better HR mobile app. 

Unpaid Leave Calculator

Employees can check how unpaid leave is calculated in detail with Better HR. Scheduled working days, Per day rate, Unpaid leave count and so on. Details of unpaid leave deduction from salary will help them to reduce unnecessary leave and will make them efficient. 

Singapore Individual Income Tax (IIT)

Resident and Non- Resident of Singapore employees must contribute to Individual Income Tax (IIT). Check how personal income tax is calculated with Better HR. The payroll system will compute IIT automatically according to the Inland Revenue Authority of Singapore (IRAS). 

Automatic CPF Calculations

Better HR automatic CPF calculator will display the accurate amount which needs to be paid for each employee in full detail. Employees can check their CPF contribution each month using Better HR mobile app. 

Payslips Overview

Every employee's monthly payslips will be delivered to their Better HR mobile app account on time. By clicking them, employees can check their itemised pay slips according to the Singapore employment act. Easy checking of your economic growth.

Get Online Payslips Singapore

Download each month detailed payslip according to the Ministry of Manpower (MOM) Singapore payslip template easily with Better HR payroll system. The best automatic payslip generator with mobile app support in Singapore.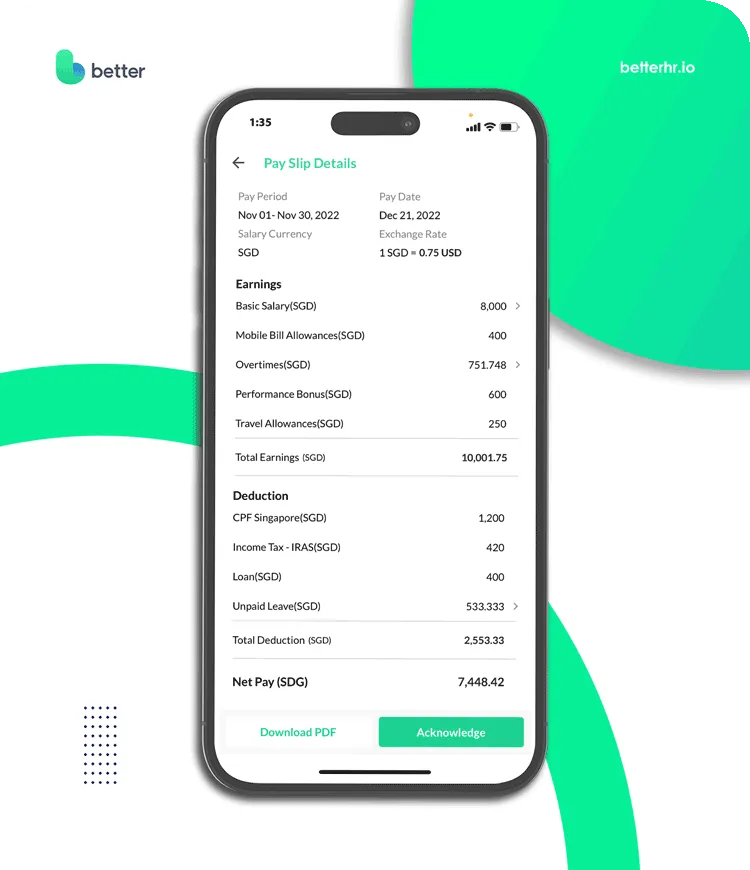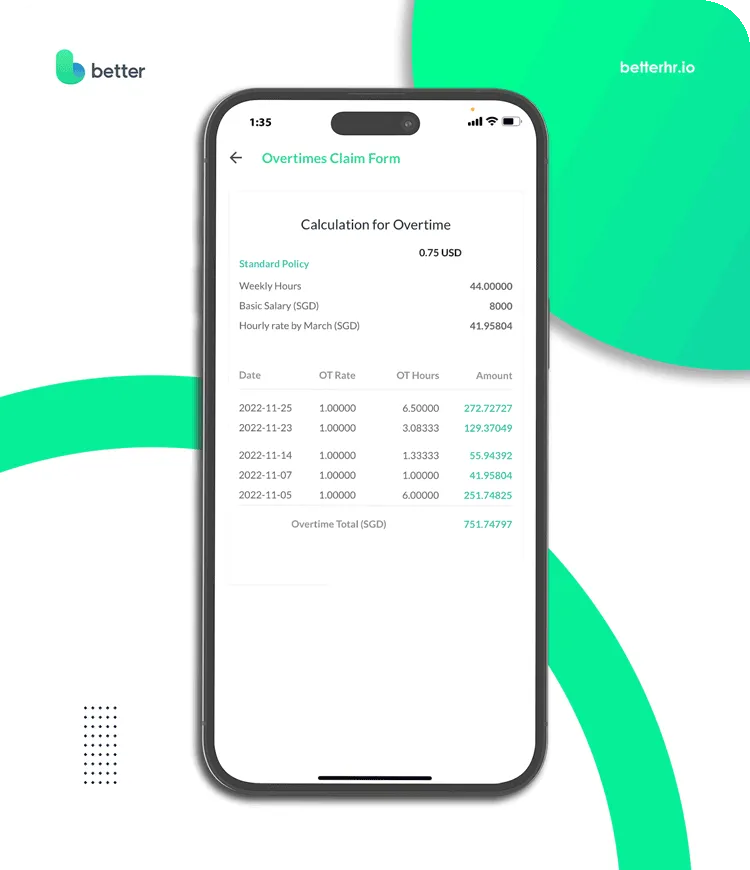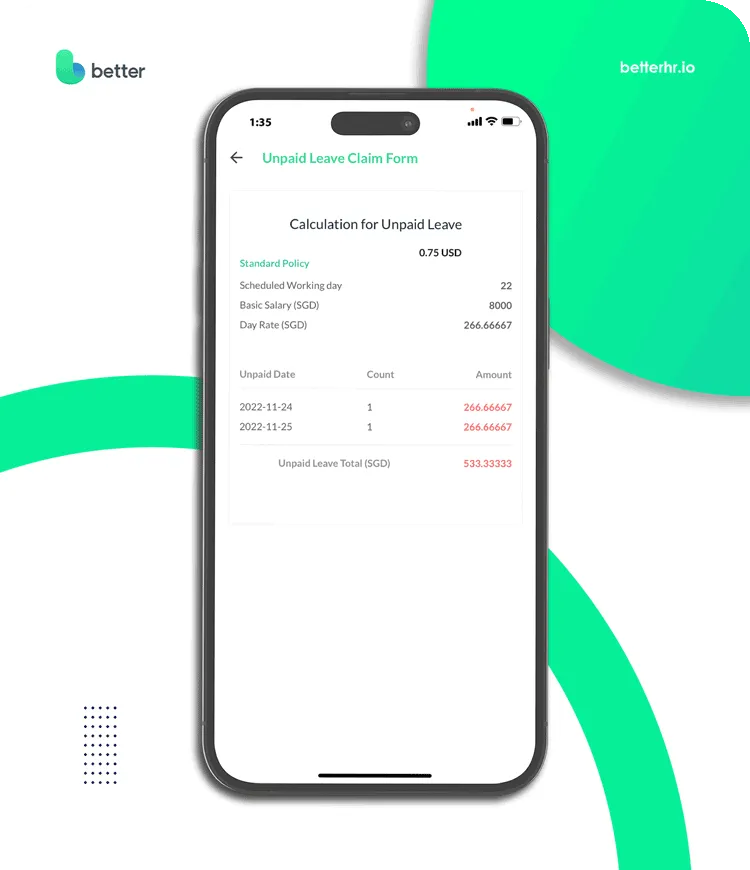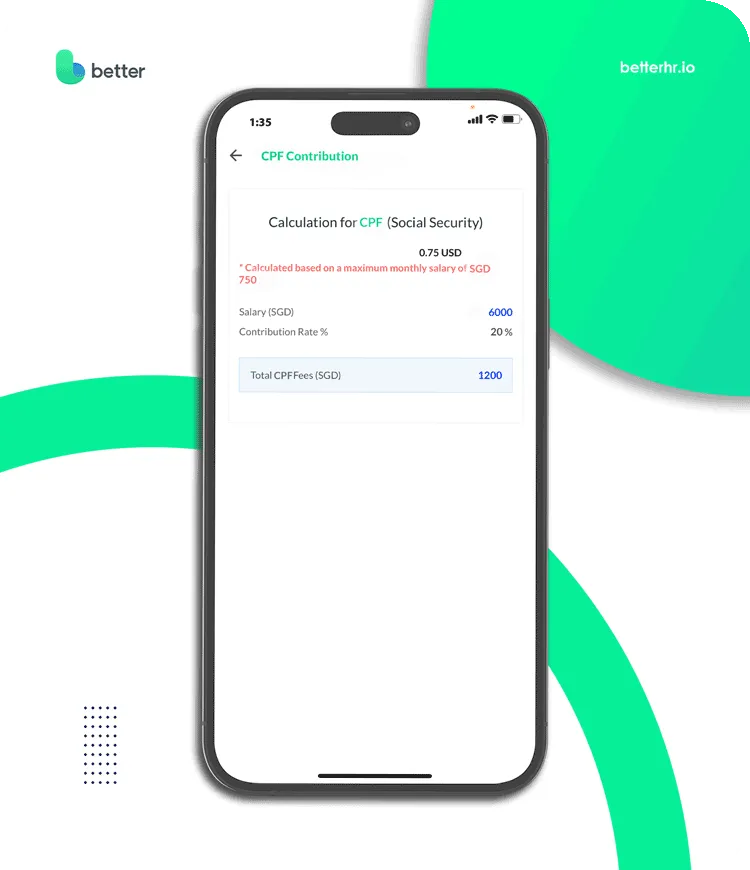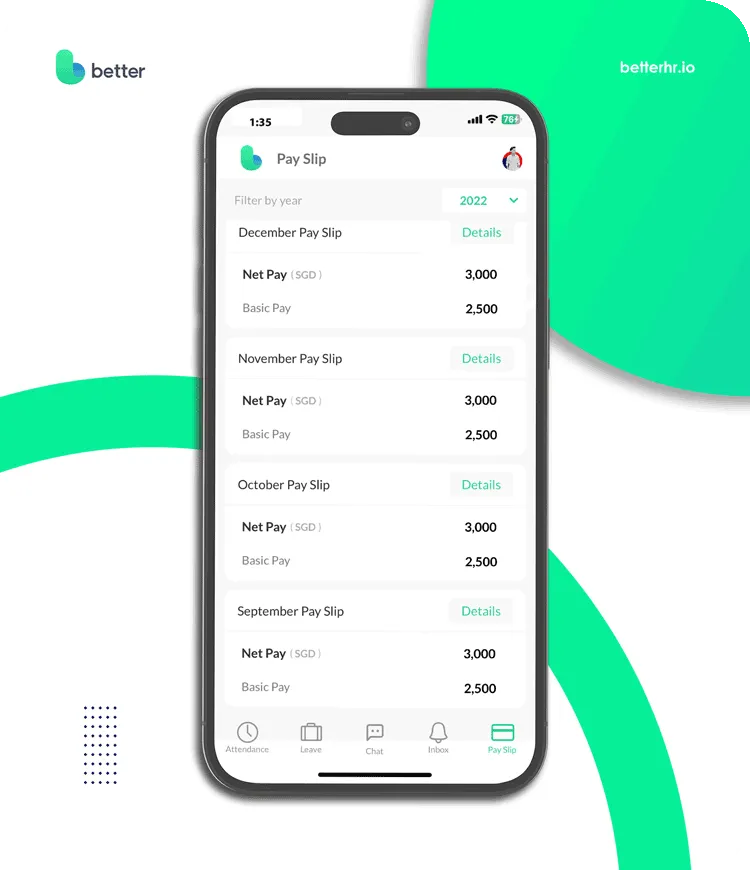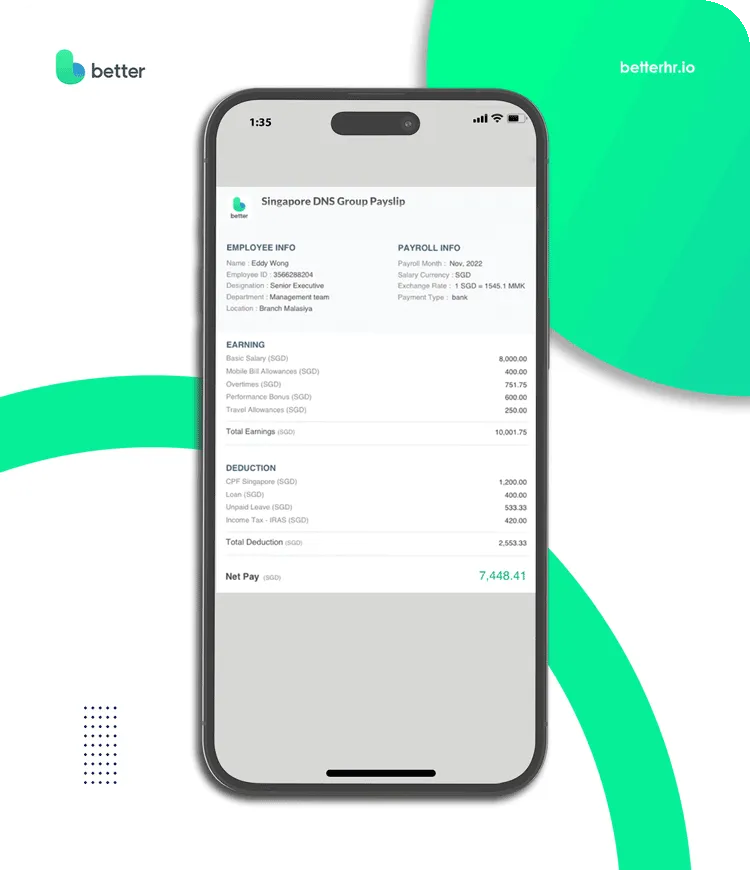 Government statutory reports
Employee's Remuneration (Form IR8A)
Easily download your filled IR8A forms using Better HR. According to the Inland Revenue Authority of Singapore (IRAS) submitting form IR8A on or before March 1 of each year is mandatory to all active employers in Singapore. Report your entire workforce income in a convenient way with Better HR HRMS software.
Central Provident Fund (Form IR8S)
According to the Ministry Of Manpower (MOM), every organisation in Singapore should contribute to the Central Provident Fund (CPF) funded by employers and employees. CPF entitled for Singapore Citizens and Permanent Residents. HR Managers can easily generate filled Form IR8S (CPF) for all employees within a minute with Better HR HRIS system.
Sinagapore Banks Salary Transfer
HR Managers can download necessary data in an Excel sheet for easy bank transfers. Import & Export past and present paysheets (MOM approved) for an efficient workflow. Flawless salary transaction with a single HRIS system, Better HR.
Complete HR Package for Singapore Businesses |Try Free