HR Software Singapore: Features
Localised features for Singapore entreprises. Manage your workforce in accordance with Singaporean labor laws. Easily manage attendance, overtime, unpaid leave, payroll (MOM approved), individual income tax (IIT Singapore), CPF, filled IR8A & IR8S forms, cloud storage and more. Better HR cloud software for all Singapore businesses. Contact Us Now lah!
Dashboard
Attendance
Leave
Payroll
Learning Center
Best workforce management requires best data, info and analytics. Better HR Dashboard will provide all necessary analytics in real-time. Monitor & track your employees' behaviours using our Cloud HR system. Request a free demo and clear your doubts for a fast decision making. Let experts help you with a Real Experience For Free.
Organise employees' work hours, shift, & roaster management easily with Better HR. Maintain proper records with cloud supported attendance management software. Employees' can use remote, QR scan, office (using GPS), auto and manual check in/out methods with Better HR software & mobile app. Best for managing overseas branches, freelancers, and remote employees.
Manage your company off-days & holidays with a localised calendar using Better HR Singapore. Manage annual, casual, medical, maternity & child-care leave easily with automated HR system Singapore. Customise leave policies according to your organisation. Employees can check their off-days, leave history and leave availability with Better HR mobile app. For more in-depth details, connect with us. 
Still using Excel for payroll calculation? Ease your burdens with Better HR automatic payroll calculations. Automatic calculation of CPF & PIT will save time for HR managers. The payroll software system will generate detailed payslips according to MOM - Singapore. Make an error free salary calculation and transfer funds with the integrated Better HR Bank Transfer. Customise basic pay, allowances, and tax reportings easily with Better HR payroll program.  
Train your interns, new recruits, and junior executives with Better HR Learning centre. Share study materials, instruction manuals, and help guides within your team easily. Managers can track the employees training processes through the Better HR admin window. Improve your workforce performance with Better HR software Singapore. For all types of SMEs.
Localised services
Manage your overseas businesses, branches, and employees easily with Better HR system. Multiple time zone and local calendar support will provide accurate services to your remote employees. Cloud based HR system enable access to the platform with just an internet connection. Try Now | Better HR Software Singapore.
HR App Singapore Features
Better HR Human Resources Management (HRM) mobile app empowers Singapore enterprises to efficiently manage their employees. With our all-in-one HR system, you can effortlessly track, monitor, and manage your workforce. Experience streamlined HR operations in the palm of your hand.
Attendance

Our HR app can provide you a great flexible experience to manage time and attendance. Employees can use mobile phones to register their daily attendance. Use auto, manual, QR scan, office (GPS), and remote check in/out methods easily with Better HR system & app. No need for technical knowledge to handle; User-friendly interface will support and enhance the experience for employees. 

Leave

Let's reduce unnecessary ledger & paperwork for leave management with us. We provide easy mechanisms to manage and organise employee leaves such as annual, casual, medical, maternity, childcare and more. Employees can check the leave availability and request instantly with Better HR mobile app; managers will respond to the request using the same platform. Easy, simple, flexible tool to manage leave. Better HR with SG Local Calendar - Try Now!

Department Directory

Any new recruits can understand whom to report through the Better HR Department Directory. Medium and large enterprises have a bit of a complicated network of employee hierarchy. Employee transfer, promotion, appraisal, termination can be understood to anyone through this feature. Manage multiple branches and employees with Better HR system & app.

Birthday & Anniversary

The office, team, and colleagues can become your second family, sharing both fortunate and unfortunate events that build strong bonds. Creating happy memories fosters a well-balanced work environment. Be the reason for someone's smile by celebrating birthdays and anniversaries. Share your best wishes using Better HR app!

Itemised Payslip

Deliver each month payslip to employees easily. Transparency of payroll calculating will improve the trust and loyalty among your workforce. Calculating CPF and PIT might be complicated to understand. With Better HR payroll, management can show the detailed view of salary calculation to employees. Every month payslip will be delivered to each and every employee's mobile app. Payslip under MOM, Singapore. Try Better HR now!

Learning Centre

Keep upgrading your employees' skill and knowledge with Better HR learning centre. LC is a space where HR Managers can share study material to conduct training processes of new employees, interns and poor performers. Employees will receive it through their mobile phone. Admins can track the study processes of employees too, isn't it phenomenal, lah? Use Better HR system to skill-up your workforce.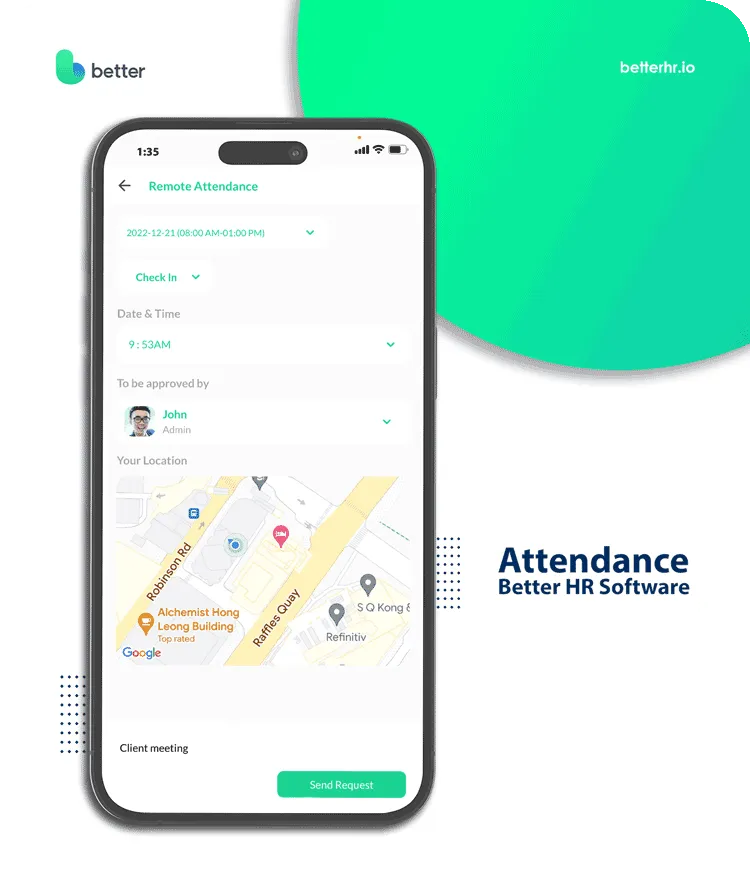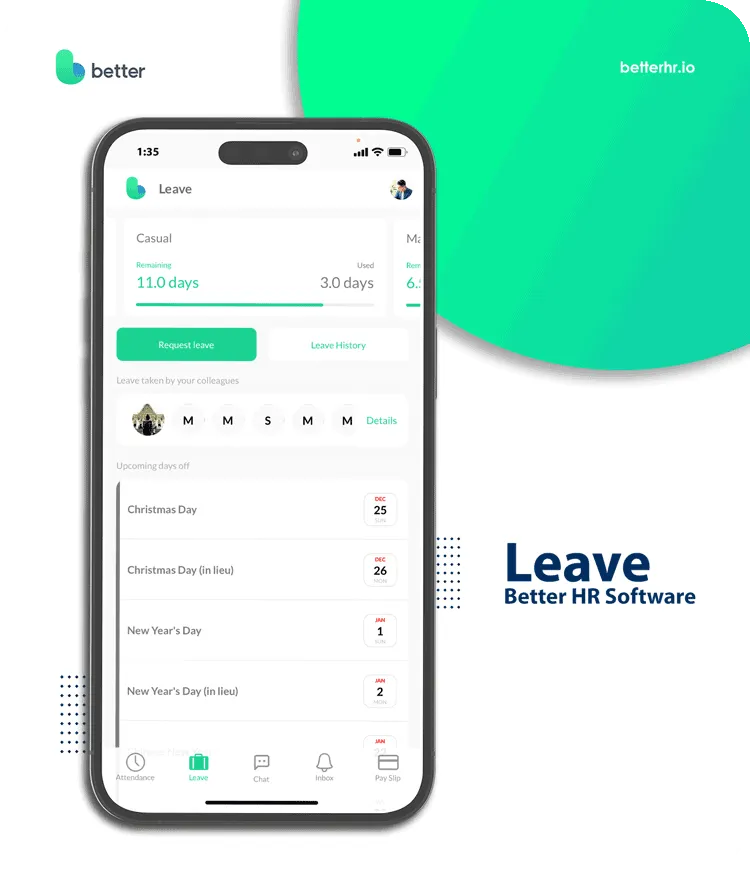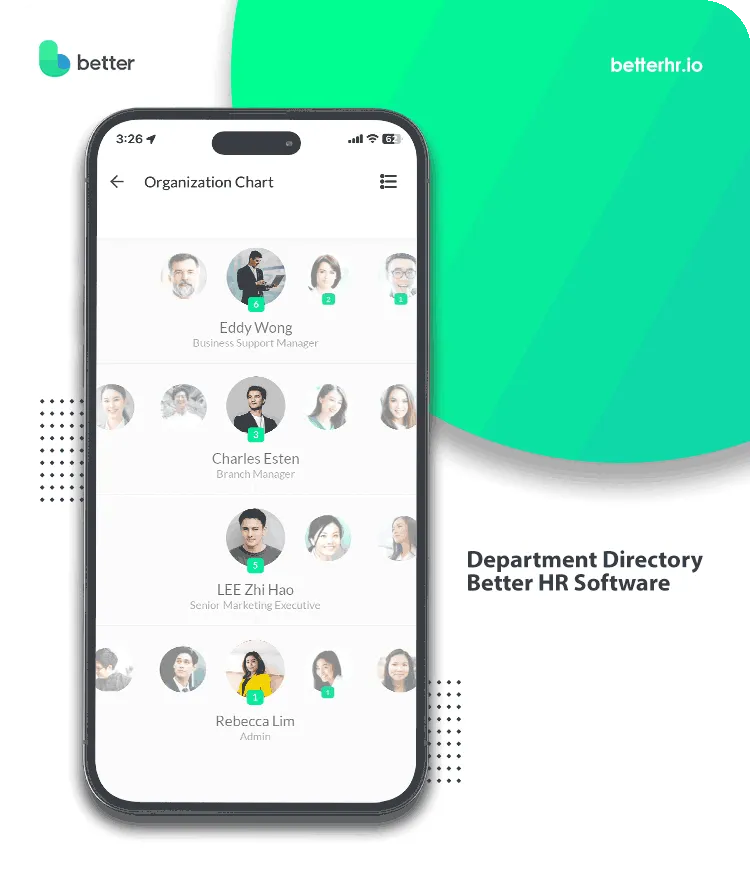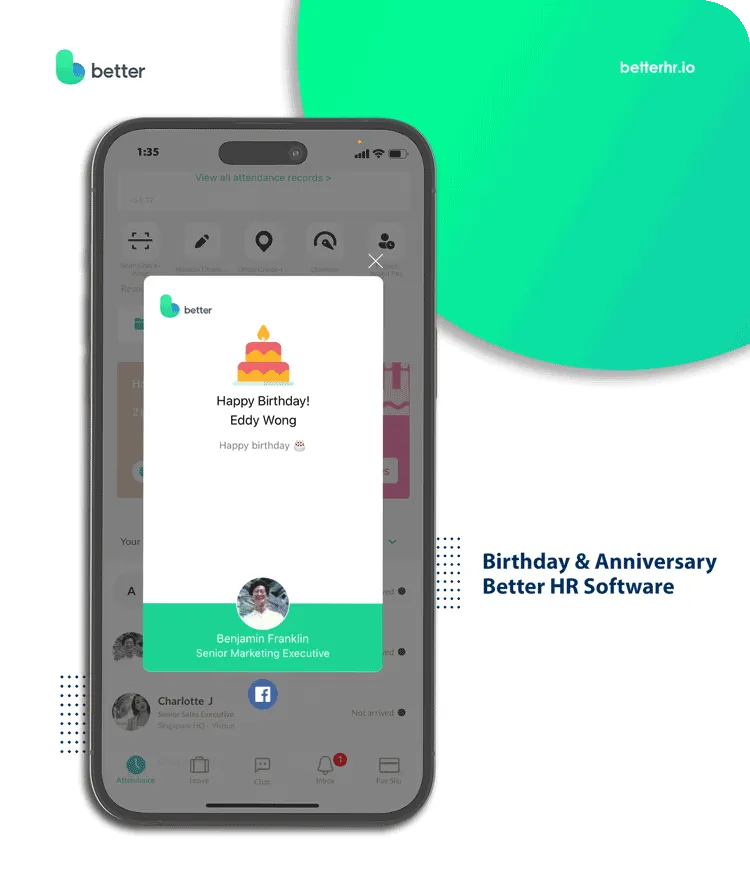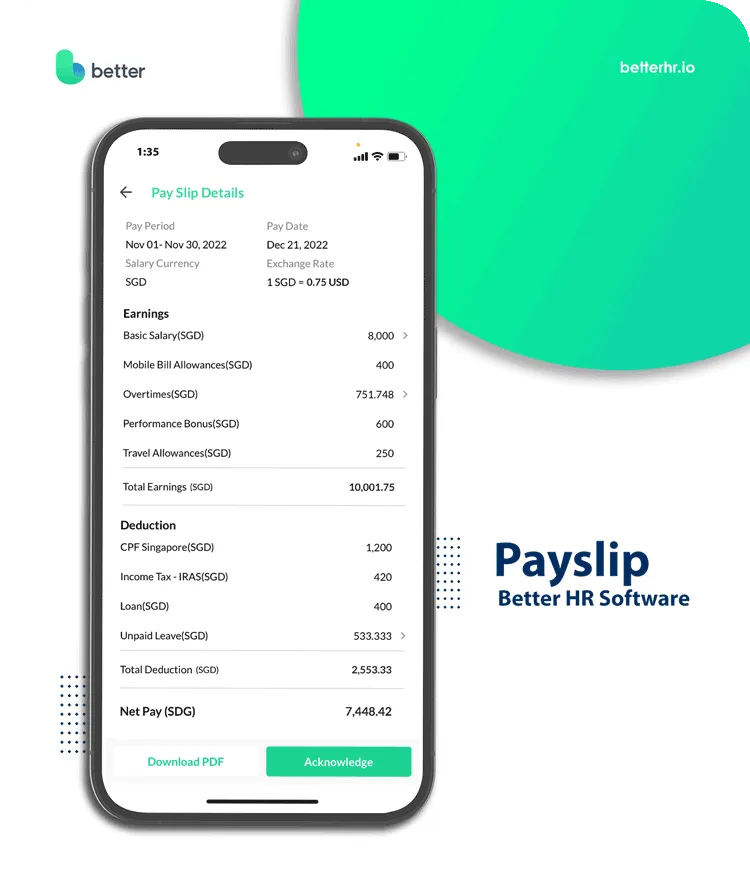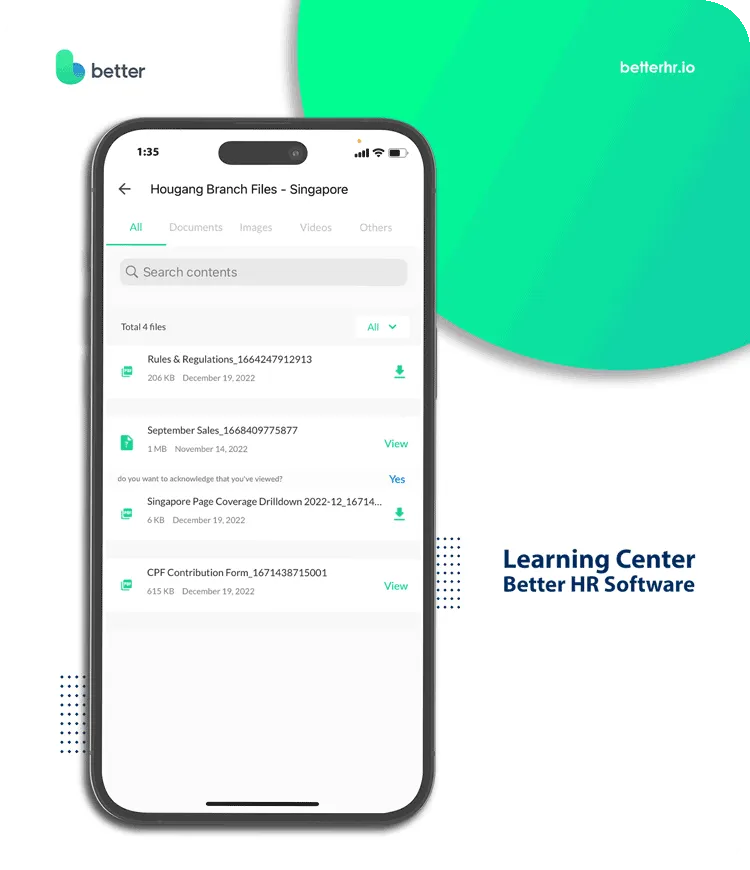 Facial Recognition Attendance with HFSecurity X05
Better HR can run on Facial Recognition Scanner like X05 for advanced HR management through precise and secure Facial Recognition for check-in and check-out. With Better HR, you can track the attendance with lightning-fast, real-time recognition, ensuring not only streamline operations but also robust security in your workplace.
Order Now
Fingerprint Attendance with ZKTEco ZPad Plus
Perform check-in/check-out with your fingertip using Better HR on ZKTEco ZPad Plus Fingerprint Scanner. The most commonly used attendance check-in/check-out process becomes powerful with Better HR which can be seamlessly integrated with payroll and other attendance data, streamlining the majority of HR processes in perfect harmony.
Businesses that trust us around the world
Complete HR Package for Singapore Businesses |Try Free