Better HR HRIS Features
All available features for Sri Lanka Better HR software users. Run your daily operation under Sri Lanka regulations. Automate payroll, attendance, income tax, administrations, documentations, and cloud storage of your organization using Better HR HRIS system Sri Lanka.
Dashboard
Attendance
OT
Leave
Payroll
Learning Center
Chat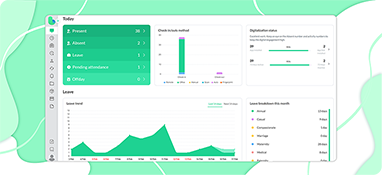 All important data of employees in one window. The dashboard displays the real-time analytics; such as attendance status, birthdays, work anniversaries, late hour, break hour, overtime, turnover rate, number of employees, real time analytics and more. | Better HR Software Sri Lanka
Manage daily attendance efficiently with Better HR Sri Lanka. Employees can make an office check in/out within office infrastructure. If you have a field employee, use the remote check in/out method. Other than that, management can use manual, auto, fingerprint, QR scan methods as well. Try Better HR Software now.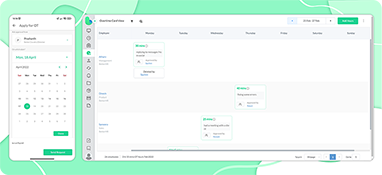 Overtime management and calculations are so easy with Better HR Sri Lanka. The software will instantly calculate the OT hours automatically. Employees can request a project based or hourly overtime with their Better HR app; Managers can respond to the request with mobile as well. Automatic OT calculations make sure an easy salary slip. Use Better HR Software Sri Lanka Now!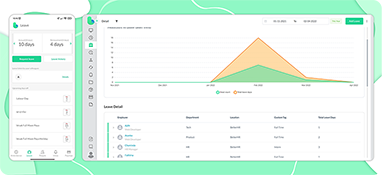 Summary of leaves taken by your employees displays in this section and it will help to control the overall workforce flow. Customize Poya, Festival & Other leaves easily with Better HR Sri Lanka. Employees can view the upcoming leaves in their Better HR App; no need to reconfirm with HR every time.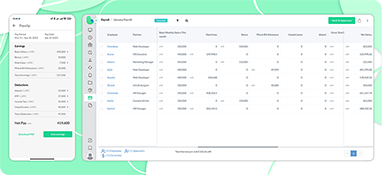 Generate government payroll system Sri Lanka with Better HR payroll feature. Save time with automated payroll calculations including income tax, bonuses, overtime, allowances, deductions, etc. Make any complicated overtime calculation, salary slips and EPF C forms simply with Sri Lanka HR & Payroll system. Every Month detailed Epayslips in your mobile, with Better HR app.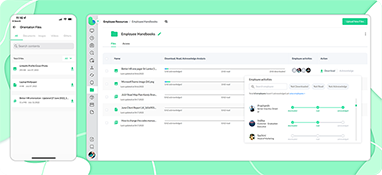 A fast, secure, reliable, and simple platform to make your organization's junior executives, interns, or trainees become successful. Easy to monitor and track the learning processes. Better HR Cloud provides 5GB space for every employee's profile account to store. Train your employees with Better HR Sri Lanka.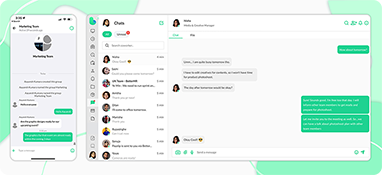 Better HR Software & App will help companies to build trust and loyalty between employer & employee. Communicate with your colleagues safely with Better HR Software Sri Lanka. Employees can send and receive text messages, voice messages, emojis, files, and photos within your organization domain for free.
Better HR HRIS App Features
Track, Monitor and Control your organization's daily workflow with your mobile using Better HR HRIS app. Manage your multiple businesses, departments, branches simply with Better HR system and app. Under Sri Lankan labor law, tax and other regulations. Book a Demo Meeting for more details.
Attendance

Try office, remote, auto or QR scan check-in/out simply with Better HR mobile app and HR managers can always manage attendance manually with Better HR software.

Leave

Check your leave availability, holidays and past leave histories on your mobile. Request leave easily from your superiors with a single click with Better HR app, managers can respond with their mobile easily.

Payroll

Check your payment details in Sri Lanka salary slip format on your phone with Better HR Epayslip feature. Detailed view of salary, allowances, deductions and OT calculations in your Better HR app. Let's build employee trust and loyalty through transparency.

Birthday & Anniversary

Keep an eye on your respected colleagues' birthdays & work anniversaries. Be a part of their celebrations by wishing them on the Better HR app.

Department Directory

Clear view of other departments of your organization can be seen here in the department directory.

Organization chart

Easy hierarchy understanding with Better HR organization chart.

Learning Center

Access your assigned files and develop your skills and knowledge with the Better HR app.

Chat

Chat with your office friends as much as you like.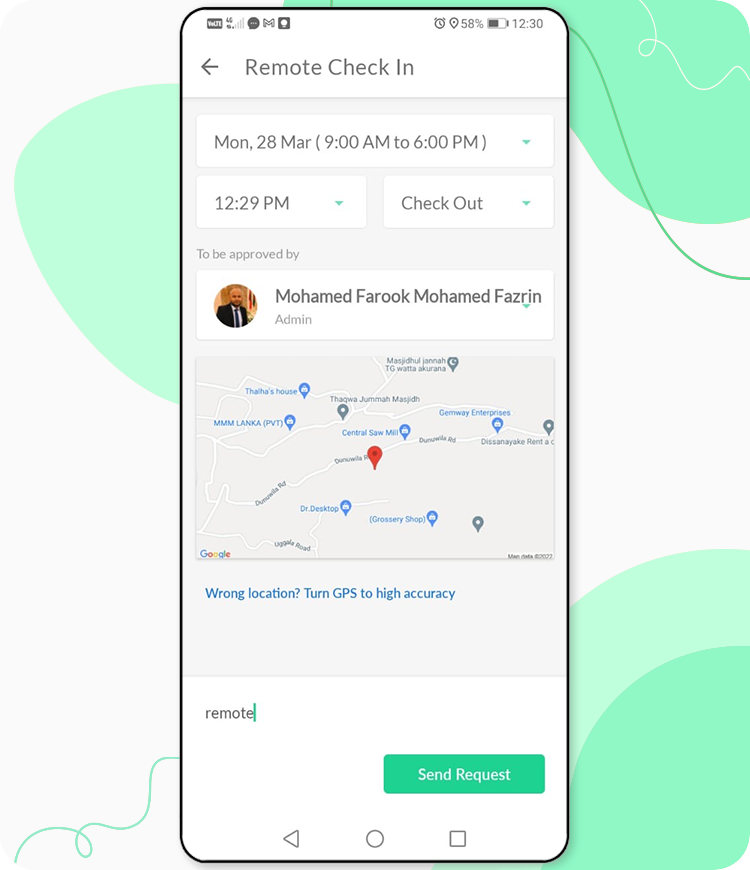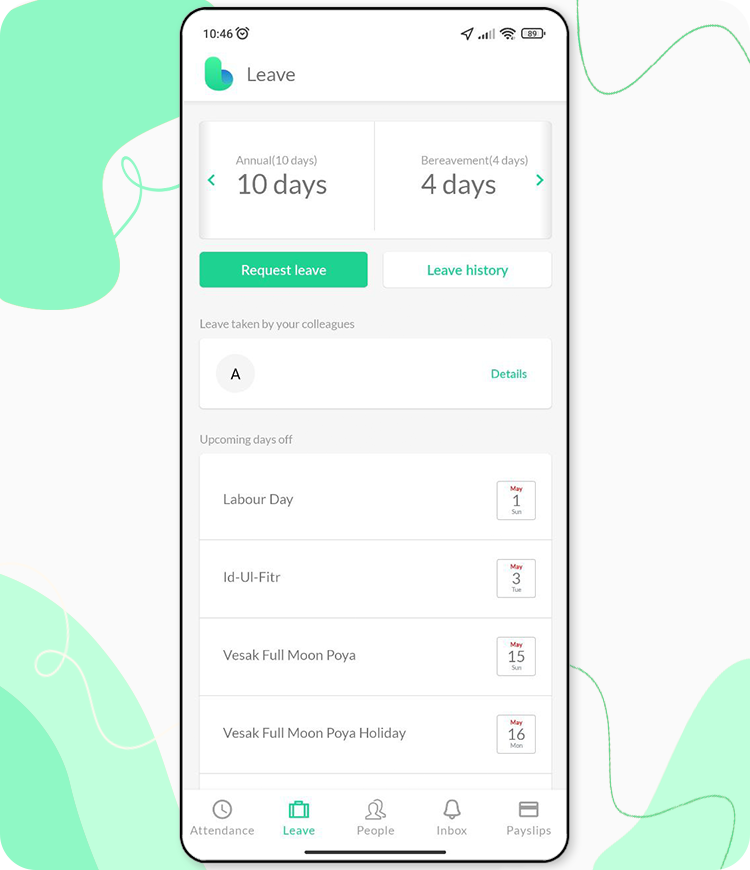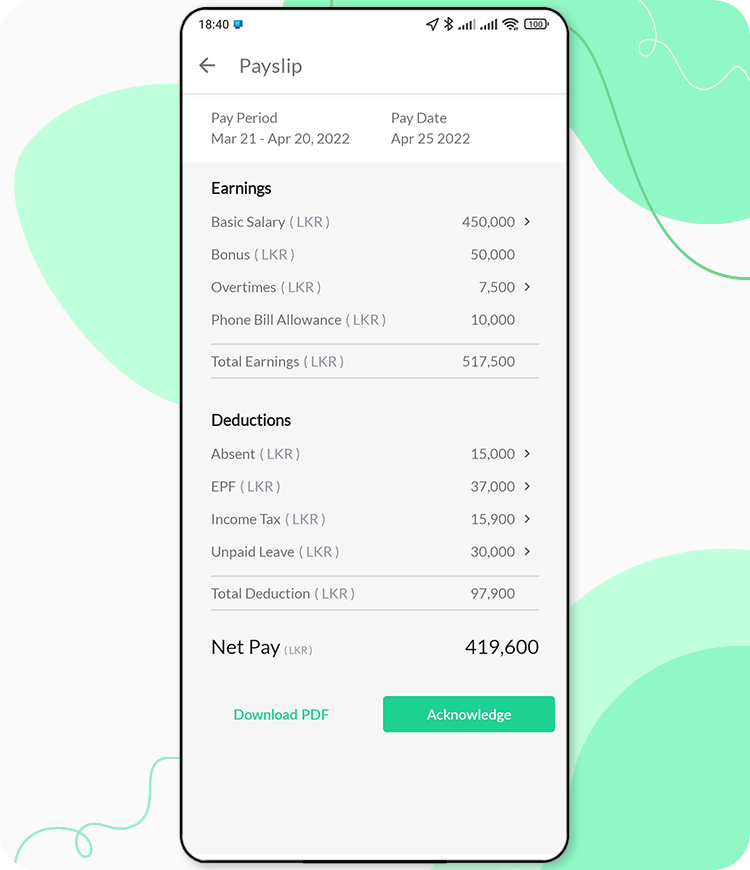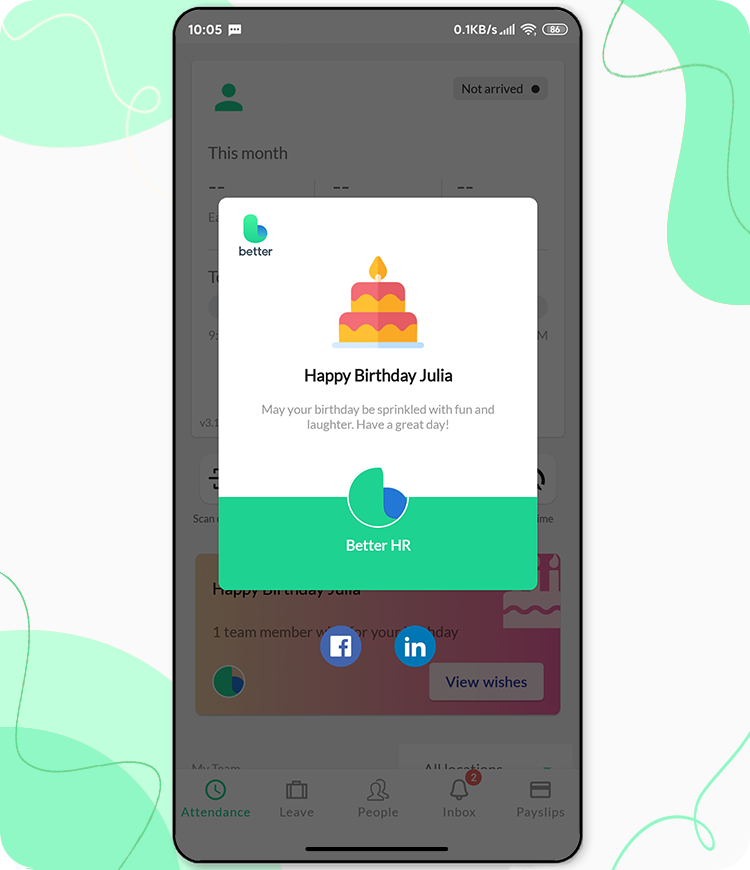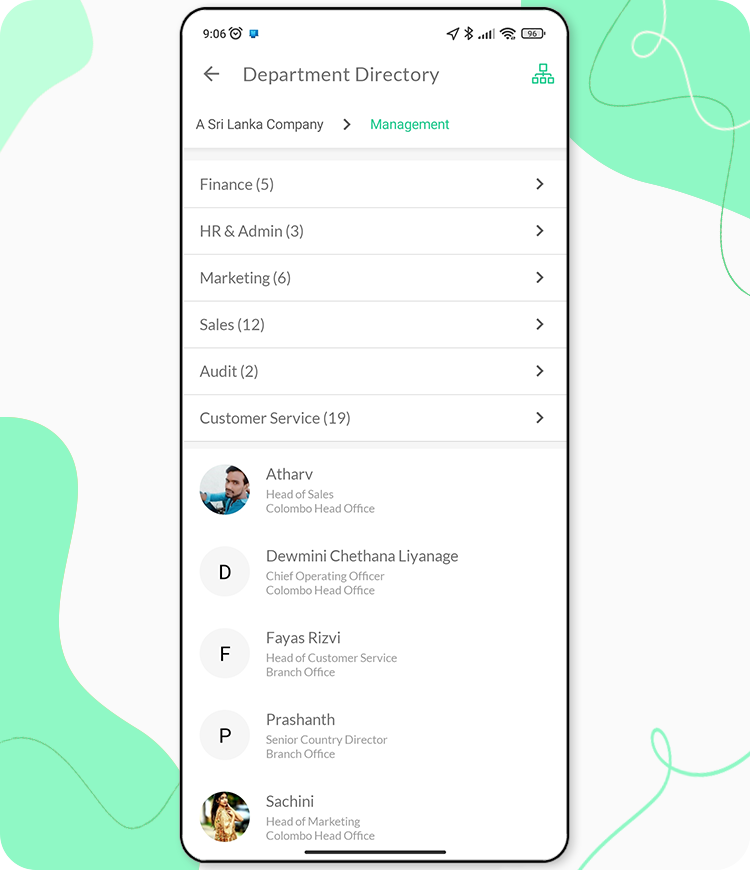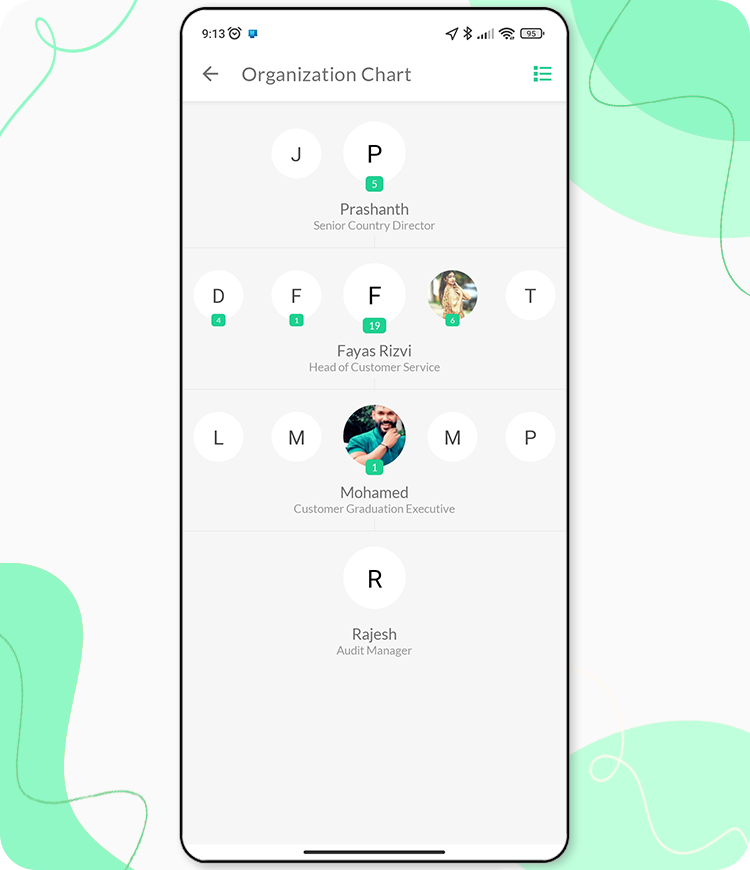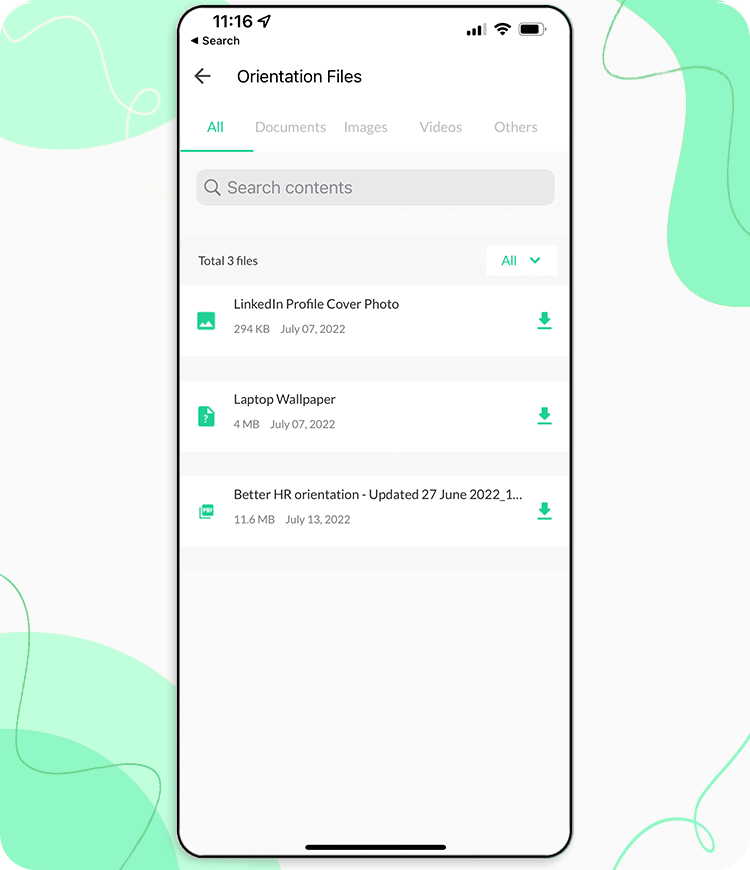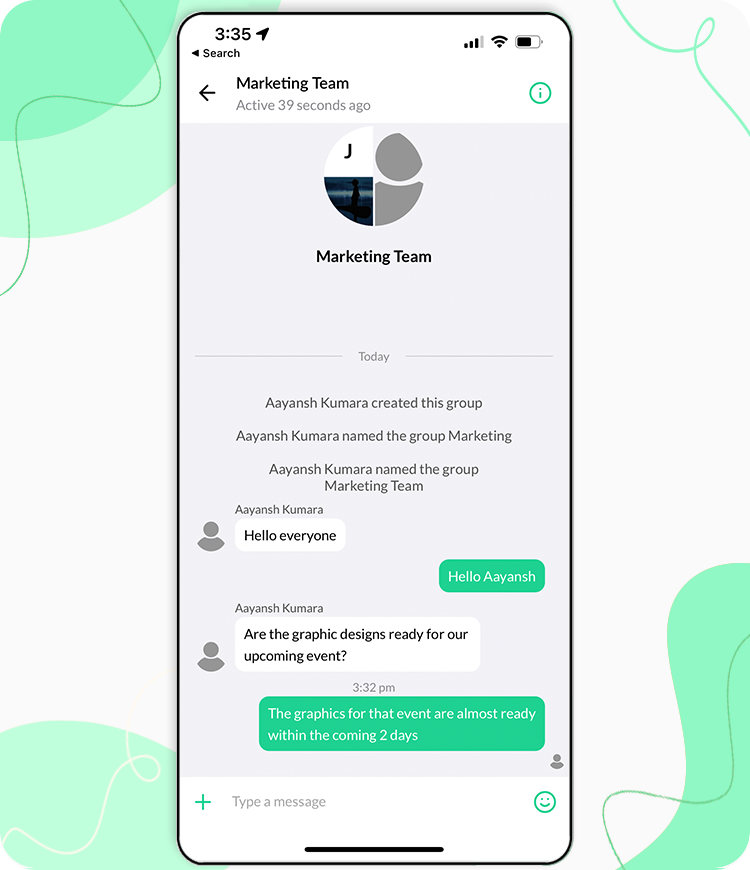 HRMS software price in Sri Lankan Rupees!
Better HR software Sri Lanka can be adoptable for any type of Business industries. Fill the form and connect with the sales team for more details.
Most Popular
Annual Billing
All available features included
Per active user/ month
Everything

included
Minimum 20 employees
Six Months Billing
All available features included
Per active user/ month
Everything

included
Minimum 20 employees
See all options
about Better HR pricing
Our Clients Around The Globe
Simplify HR processes with Better HR