More Than Just Time Tracking
Right Time Management With Efficient Employee Monitoring Means Productive Workflow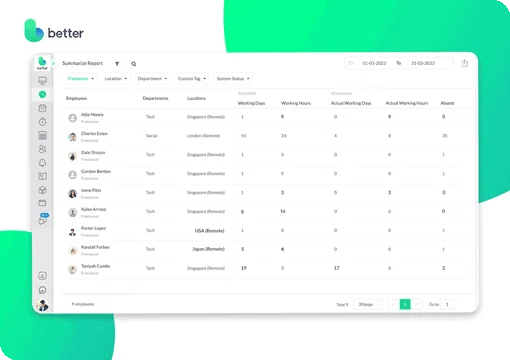 Track Time, Attendance & Billable hours
The Better HR app offers a more convenient platform for employees to record and analyze their daily attendance, with the option of self-attendance. This allows both employers and employees to track working hours accurately, allowing management to monitor employee's productivity to the organization. The app offers several flexible methods of registering attendance, such as Office, Remote, QR-Scan, Fingerprint, Auto and Manual. Better HR time tracking features ensure efficiency & accuracy by eliminating poor data and duplications.
Schedule & Duty Roster Management
For effective business management, it's crucial for every enterprise to understand the concept of work-life balance and the significance of a duty roster in today's fast-paced world. Managing employee schedules, time and keeping a record sheet is a complex scenario for any organization, and that's where Better HR's advanced time tracking & attendance management feature bail you out. Ease your dusty timesheet and roster management simply with Better HR; a time & attendance tracking system integrated with payroll. Automate entire payroll calculations according to track and recorded work hours.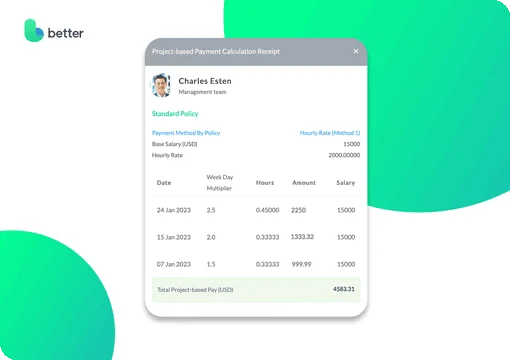 Project Based Pay
Better HR offers more than just time tracking & attendance management. Its exclusive features also include the ability to track employee projects. With the option for project-based pay, it's useful for when employees receive new seasonal projects or when the company hires a freelancer for a new project. The Project-Based Pay real-time dashboard analysis provides managers with a detailed view of the project's progress, including total project days, hours, departments, positions, payment trends, and more, presented through tables, graphs, and pie charts. Better HR's web-based HR management system provides a clear overview of what you're paying for.
How does time tracking improve productivity? Check Now!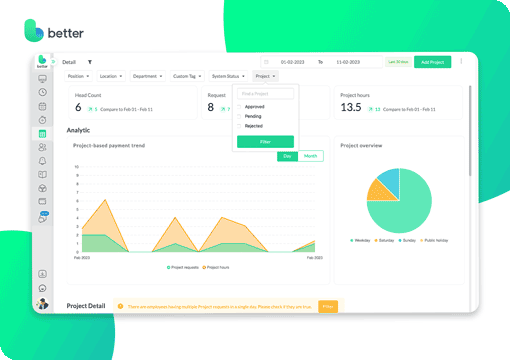 Policy & Project Management
Employers can customize needed settings as per their preference, including setting minimum and maximum hours for employee project requests. The employer can easily set project rates for weekdays, Saturdays, Sundays, and public holidays to calculate payments based on the requested work day. The payroll system will automate the complex payment calculations process simply & accurately with the help of cloud data. As the employer is responsible for salary income tax and social security, Better HR provides the option for the employer to configure these expenses in Project-Based Pay too. Business owners and managers can enable, disable, and delete projects anytime with just a click. Don't be afraid to assign new projects to your employees, contractors or freelancers when you have Better HR Project Management.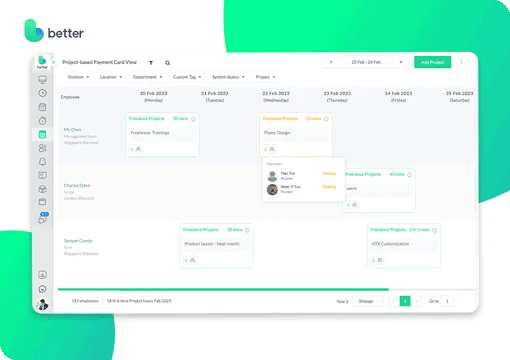 Freelancer Management and Accurate Billings
Accurately track the true working hours of your contract employees with Better HR Time Tracking feature. Our HR solution helps employers to manage their freelancers efficiently, allowing them to track tasks and projects and pay the right fee on time when the work is completed. Better HR Payroll calculations will occur based on the company's payroll policy, and the online payslip is delivered to the freelancer's mobile instantly. Better HR ensures a transparent relationship between employer and remote employee. We enable organizations to benefit from the skills and talents from around the world by freelancing and help to build trust with your freelancers for a long-lasting relationship.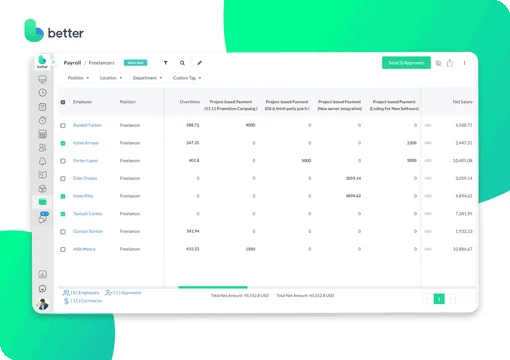 Payroll For Productivity
How will time tracking benefit without a payroll integration? Better HR's cloud-based HR and payroll software provides a streamlined solution to automate employee hourly, weekly, biweekly, monthly, and project-based pay, making administration processes easier. With simple time tracking and cloud records, you can track productivity, attendance, and billable hours in real-time. You can also switch to multiple currencies by adjusting payroll policy settings and enjoy global payroll compliance. Better HR is a unique modern web-based HR management system that helps with time tracking along with multiple countries' regulations. keep pay data organized and do simple & safe transactions with Better HR.
Want To Know More About The Better HR's Time Tracking Feature?